In the market for a new metal bat? Not sure what size bat you need? Confused by all the different options? We've got you covered and hopefully can answer all the questions you have in selecting the perfect aluminum, composite or hybrid baseball bat for you.
For young players who are constantly growing and with metal bat certification constantly changing, selecting the right bat is all about determining the correct size and choosing the bat that makes you, as a hitter, comfortable.
Both players and parents should understand the proper way to choose the appropriate certification, material, weight and length, so you can go to the plate confidently, knowing you're swinging the perfect bat for you.
METAL BAT CERTIFICATION
For youth players, the first and most important thing to consider is the league in which you play. Many leagues designate a select bat size or certification to follow. If you're unsure, ask your coach or league administrator before purchasing a new bat.
For the most part, youth leagues will either allow USSSA certified bats or the new USA Baseball bat standard (USABat). Marucci's CAT8, CAT Composite and Posey28 Pro Metal Senior League bats all have a 2 3/4" barrel diameter and are USSSA 1.15 BPF certified and stamped.
Marucci added the USA Baseball certified CAT to its arsenal on May 1, 2019. The CAT is a one-piece stick with a 2 ½" alloy barrel, available in senior league -10 and tee ball -11 and -12 models. Along with Little League Baseball®, the following organizations follow this standard: American Amateur Baseball Congress (AABC), Amateur Athletic Union (AAU), Babe Ruth Baseball/Cal Ripken Baseball, Dixie Youth Baseball, and PONY Baseball.
For high school or college players, BBCOR is the standard, regardless of league or classification. All BBCOR bats have the same drop weight (-3) and barrel diameter (2 5/8").
BAT CLASSIFICATION
Here's where many parents and new players get lost, but we'll break it down simply. All bats, regardless of certification, are also classified based on the competition level of the player.
We'll start with the youngest. Junior Big Barrel bats are the go-to option for players in coach pitch leagues. These bat are designed for players ages 5-7, carry a -10 drop weight and a 2 3/4" barrel, but are only available in 25"-27" lengths. All Marucci Junior Big Barrel bats are also USSSA certified.
The next classification is Senior League, which is a little misleading since these bats are made for players 9-14 years old. Here's where drop weight becomes a determining factor, which we'll get to more later. Basically, drop weight is the difference between a bat's length (inches) and its weight (ounces).
Senior League bats include -5, -8, and -10 drop weights and span from 27"-32". The older (stronger) the player, the lower the drop weight should be.The taller the player, the longer the bat should be that they swing.
Finally, the easy one, High School/NFHS/NCAA, all use BBCOR (-3) bats. Basically, if you're over 14 years old, you should probably be swinging BBCOR.
ALLOY vs. COMPOSITE vs. HYBRID
After determining the correct bat certification and classification, the next step is to decide between alloy, composite or hybrid bat construction.
Each has its own advantages, but it mostly comes down to preference and level of competition.
Aluminum alloy is the most common metal bat material and very popular among players at all levels of competition.
The alloy used in Marucci bat construction is extremely strong and highly responsive immediately out of the wrapper. The increased strength allows for multi-variable wall designs which results in larger sweet spots and more forgiveness on mishits. Stronger alloy also allows for ring-free barrels that meet certification standards with no internal governors that create dead spots along the barrel.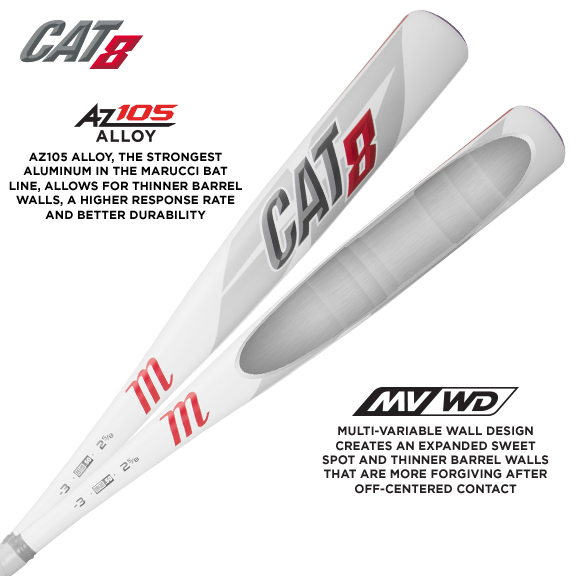 Because there is no break-in period required, alloy bats are recommended for beginners and those who play baseball only a few months during the year. Experienced and competitive players also love alloy bats for the incredible balance, fast swing speeds and that unmistakable "ping" at contact.
Marucci aluminum alloy bats include the CAT8, Posey28 Pro Metal, CAT7 and F5.
Composite bats are different from aluminum bats in many ways, but the most important is in its performance over time. Immediately after purchase, composite bats require a break-in period of approximately 300 swings until it has reached its potential and considered game-ready.
Read more about the 6 Steps to Breaking-In Your Composite Bat.
The reason for a composite bat's break-in period is the proprietary resin inside of the barrel must be loosened up so the material can be more responsive upon contact.
Because of this break-in period, composite bats are recommended for more competitive players who play several months during the year.
Over time, composite bats are considered to be more durable and higher performing. However, if proper care of the bat isn't taken during the break-in period and over the life of the bat, it may result in premature breakage or lowered performance.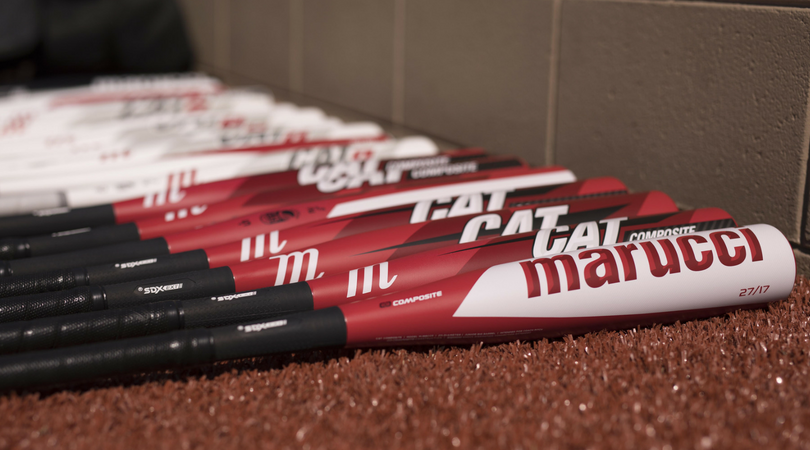 Marucci's CAT Composite line includes -5, -8, -10 and Junior Big Barrel models.
As its name suggests, Hybrid bats combine a carbon composite handle with an aluminum alloy barrel. This two-piece design results in a slightly end-loaded feel and whip-like swing. Many experienced hitters enjoy the extra weight in the barrel that's made for power hitters.
The CAT8 Connect BBCOR and -5 USSSA bats are included in Marucci's hybrid offering.
ONE-PIECE vs. TWO-PIECE BATS
Once you determine the material, the next factor to consider is the bat's construction as a one-piece or two-piece. Again, this decision is based on personal preference and the type of hitter you are.
As mentioned with the hybrid bats, Marucci's two-piece bats are slightly end-loaded and connected by patented SDX EXT technology that's stiffer to allow for more energy transfer to the ball while dismissing vibrations with a triple-layered dissipation connector.
Power hitters typically prefer an end-loaded feel, and they'd find it in the CAT8 Connect BBCOR or -5 bats. Senior League players who like a two-piece that's balance point is more in middle may like the CAT Composite.
One-piece bats, like all Marucci alloy bats, are perfectly balanced and provide a smooth, consistent swing and greater control.
Contact hitters usually prefer a balanced one-piece for the control and ability to create faster bat speed with a lighter-feeling barrel.
SIZING
Not too long, Not too light.
Players that are growing are the most difficult group to size bats for. The most important thing for this group is to make sure they are swinging a bat that they can control. As they grow and their skill set develops, these players will be able to swing a longer and heavier bat.
When the mass of the bat increases proportionally to a player's strength and swing speed, the force exerted on the ball also increases. The result is greater exit velocity and distance on contact.
Below is a sizing chart that gives you a good starting point.

Ideally, a player should be swinging the heaviest bat that does not cause swing mechanic issues or result in slower swing speeds. The easiest way to determine that perfect weight is to demo a certain size before purchase. However, that opportunity may not exist.
Know your strength
More than height, the more critical factor is a player's strength. As mentioned previously, you're looking for the heaviest bat you can control through all parts of the swing.
With "drop weight" being the standard on aluminum bats, the height/weight distribution will remain constant, i.e., a bat that is an inch longer will also be one ounce heavier.
Because the science is not exact on bat selection strictly on a player's height or weight, Marucci does currently carry -10, -8, and -5 Senior League bats to accommodate those growing players who are transitioning or find themselves in between.
Top-Hand Test
Pro Tip: When you don't have an opportunity to swing, but you can hold the bat, determining the proper bat size is as easy as a simple one-hand test we call the "Top Hand Test":
Place both hands in their normal position on the bat with the handle in the fingers, not buried deep into the palm.
Close your eyes, and remove your bottom hand.
If you can control the barrel easily in your top hand with your eyes closed, you may have picked a winner.
Eye on the Barrel Test
Pro Tip: During a full-speed swing, if you or your coach can notice the barrel head dropping limply after the initial hand movement and before contact, the bat is probably too long/heavy.
This inadvertent barrel drop is not only an indication the bat isn't the correct size, but it also slows the bat through contact, creates an improper adjustment through the swing, and disrupts swing timing and mechanics.